We are happy to announce our first
Subscriber of the Month Giveaway!
Each month, we will randomly select an NY Vape Shop subscriber to win one of our best selling vaporizers and other great prizes. The best part?
As a subscriber,
you're already entered to win!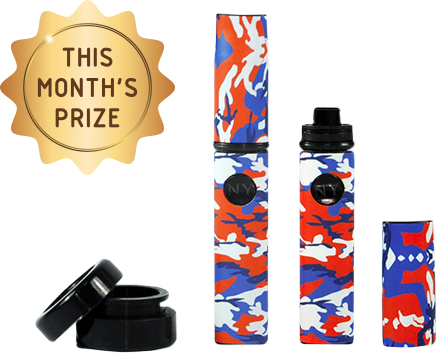 Micro Vape Double Kit
Available in 24 color options
Due to its small size and portability, the Micro Vape is perfect for anyone who likes to vape wax concentrates on the go. If you're looking for a vape that is discrete, stylish, compact and has a solid battery life; the Micro is the vape for you.
Micro Vapes are high quality and will stand up to any competitor, guaranteed. This product includes 2 Micro vaporizers, 1 silicone wax container, 1 dabbing tool with non-stick cover, 5 mouthpiece sleeves, 1 USB charging cable, and 1 wall charger.
Don't miss this amazing opportunity,
share with your friends today!

NYvapeshop 2302 Rockwood ave. Baldwin NY 11510 USA